With our expert team of doctors, surgeons, nurses and assistants, the 9th Avenue Veterinary Clinic ensures that your pet always receives the best possible personalized care during their stay with us.
Our highly competent and friendly staff are always smiling and willing to answer any questions you may have regarding your animal's well-being.



OUR DOCTORS
Dr. Charles Hayward BVSc
Dr. Hayward qualified in 1981 and established the 9th Avenue Veterinary Clinic in 1985.
As a vet, he admires all facets of veterinary sciences and the challenges that this variation brings. He also appreciates both the medical and the surgical aspects of veterinary medicine.
When Dr. Hayward is not busy at work, he enjoys spending his time outdoors doing activities such as hiking, game viewing, bird watching, off-road adventuring and photography.
"The thing I love about my job is helping those who can't help themselves, healing and saving lives'" says Dr. Hayward.
Dr. Hilda Meyer BVSc
Dr. Meyer is a veterinary surgeon. She started with us at the clinic in 2010 and spends most of her time specialising in equine treatments and small animal medicine for tiny furries such as rabits, rats and guinea pigs.
For Dr. Meyer, it's not just her passion for animals, but also the animal success stories, seeing patients respond to treatment, as well as seeing their owners' happy faces and sharing in their joy, that makes Hilda love her job.
In her spare time, Hilda also loves activities such as running, hiking, mountain biking and horse riding.
Dr. Kim Walters BVSc
Kim is the fun, new Dr at the Clinic, and a talented graduate with a keen interest in small animal medicine and soft tissue surgery.
What makes this job amazing you ask? "I love building relationships with people and their pets. It is extremely rewarding seeing the difference made in the lives of animals and their owners. And I love that every day is different", said Kim.
At home, she has 2 cats - Sage and Dusty - and believes that owning a pet is both a privilege that is extremely rewarding but also a huge responsibility and commitment.
Dr. Ian Burnand BVSc
Dr. Burnand qualified in 1991, and for 6 years he practiced full-time at the clinic, before joining the National State Veterinary Services. Nowadays, between his state job, Dr. Burnand locums at the Clinic three days a week, and especially enjoys working with small animals, dogs and cats.
"Interacting with all the staff at the clinic, as well as, all the patients and clients that visit the clinic," is what makes Dr. Burnand love his job.
In his spare time, Ian loves spending time with his family while enjoying outdoor activities, such as hiking and birding. He is also a devoted jogger and enjoys cycling and other sports as well.
Make an appointment with Dr. Burnand at 9th Avenue Veterinary Clinic on Mondays, Wednesdays and Fridays, from 16:30 - 18:30.
Sr. Chane Fritz DVN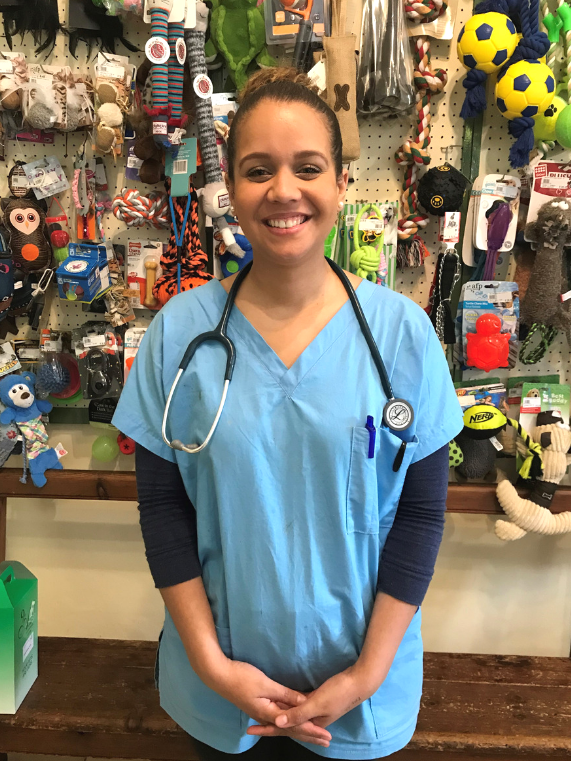 Chané started with us in 2014 and since then she has been the winning formula for the success of our weight clinic, dental department and bandages.
"The rewarding feeling when a sick animal gets better", is just the right juice that keeps this awesome nurse going. Chané has a strong passion for animals and at home she owns two cats, an African Grey and a Boerbul.
Chané also says that, "to have a pet is a full-time commitment, who deserves to be loved when they are old and grey, just as much as you loved them when they were a cute puppy or kitten".
Sr. Elbé Beukes

Elbé's compassion and care for animals made her decide to be a veterinary nurse.
Eblé shares a love and interest in animal behaviour and she has two English Pointers at home as well as one gorgeous Appaloosa horse.
OUR FRONT STAFF
Shaun Wallace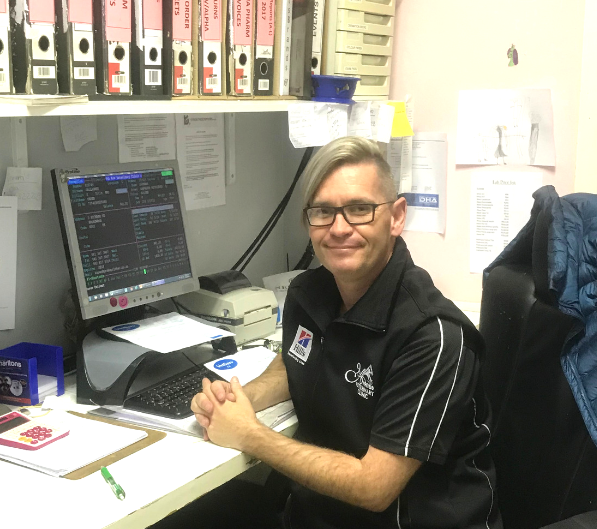 Shaun has been with the 9th Avenue Vet family since 2007 and has been our receptionist, buyer and stock controller ever since. Shaun's average day starts with our clients dropping of their babies for grooming, booking in all surgeries and consultations.
"I love the daily challenges each day brings. I love working with people and most of all, seeing a once sick patient leaving us fit and healthy," said Shaun.
Besides the babies at the clinic, Shaun also has some furries at home, including a Pomeranian, a Dachshund, a Boerbul, two miniature pinchers, a cross-breed that he rescued from Walmer Township and three cats – Now that's a full house!
Joy Dominique Hill
Joy is our savvy reception and admin guru.
This lovely lady started with us at 9th Avenue Vet in 2014 and adores her job because she gets to work with animals.
At home, Joy has a Labrador and a Staffordshire Bull Terrier, and her hobbies include; horse riding, spending time with family and doing adventurous activities.
Jean-Pierre Barnard

JP is one of our friendly receptionists who particularly enjoys the one-on-one working with and speaking to clients.
When it comes to picking occupation highlights, "I must admit it gives me great satisfaction when a rescue dog finds a loving home and witnessing how happy they are and how well they adapt to their new homes," said JP.
Lorina du Preez

With 15 years of experience and starting with us in March 2018, Lorina specializes in merchandise, and she loves spending time with customers and their animals. At home she has 3 dogs and 1 cat, which obviously makes 'animals' the reason for loving her job here at the clinic.
To "provide your pets with the best quality of life with the best food and vet visits," is what Lorina believes everyone should know about keeping pets.
Tasmin Marie Zietsman
Tasmin is our brand-new Veterinary Receptionist and LOVES all the animals at the clinic. In addition to reception, Tasmin is also tasked with ensuring that the 9th Avenue Grooming Parlour runs smoothly.

At home, she has two cats (Libby and Mini), and her advice for taking care of a pet is to, "prepare to love like never before".
KENNEL STAFF
Xola Kelemane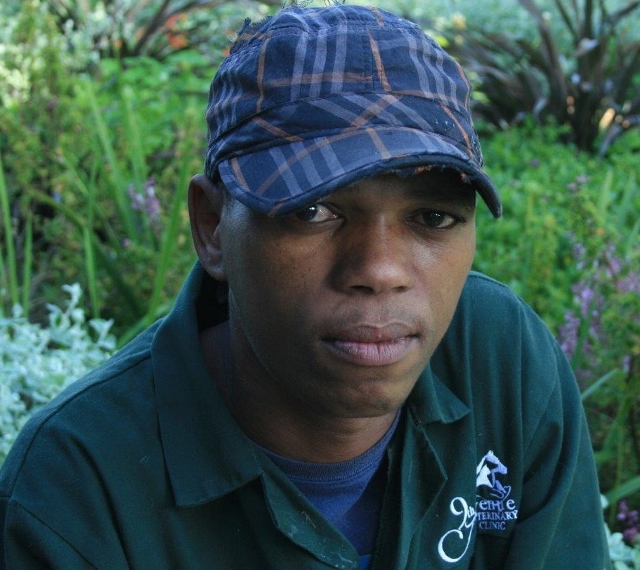 Xola is a big time animal lover and he started at 9th Avenue Vet in 2012.
He shares a deep-rooted love and passion for animals and treats the clinic babies as if they were his own.
Xola's hobby is playing computer games, and his favourite animals are dogs, cats and lions.
Songi Dwane
After 11 years of incredible service, one would say that Songi is part of the furniture here at 9th Avenue Vet.
Many of our clients will also recognise him as the staff member with the biggest smile!
In his spare time, Songi enjoys playing cricket, but at the clinic, he is Osama's other dad and loves to work with the dogs outside.
PRACTICE ANIMALS
Scoobie, our resident blood donor and big teddy bear!
Macy Gray
Sanna/Amanda
Osama